Enhanced Template Manager
Gimmal's Enhanced Template Manager provides the ability to associate multiple document templates to designated content types. The Enhanced Template Manager Help consists of a Feature-Activated (FA) and Provider-Hosted (PH) version. Click the folder for the desired environment to see the related configuration information. From the end user's perspective, ETM manifests itself when a user adds a document to a library using the library's New Document ribbon bar button. When the user selects the desired content type for the document they want to add, ETM prompts the user with a dialog of available document templates from which to choose.
Appearance
ETM's only end-user interface is the Select a Template dialog. This dialog displays the templates associated with content types the user selects, but only those templates that the user has permission to view.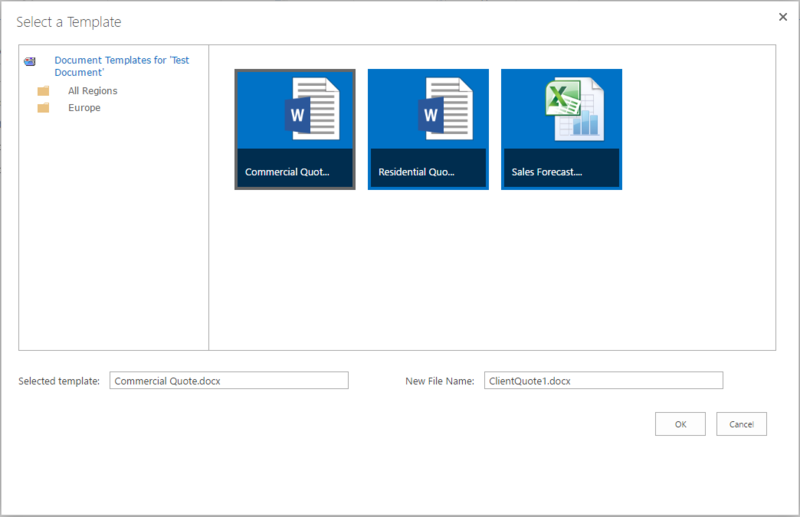 Integration with Governance Hub
Enhanced Template Manager (ETM) is integrated with Gimmal's Governance Hub, which is a mandatory prerequisite for installing ETM. Governance Hub is a configuration management application that provides a single location to configure and manage installed Gimmal software such as ETM. Governance Hub Global Configuration Groups can be used to enable different sets of ETM-managed document templates for different groups or regions. For example, you can use one set of document templates for North American sites and a different set of templates for European sites.
A Global Configuration Group is a unique set of product configuration data that Governance Hub applies to one or more installed product instances. Global Configuration Groups are useful if you want to configure a product differently based on where it is installed. They enable you to group sites together so that they can have the same configuration. By default, an All Sites Global Configuration Group is created when Governance Hub is installed. The simplest scenario is to use this All Sites Global Configuration Group when you configure ETM.
Governance Hub is a mandatory prerequisite for installing ETM. For more information, see Governance Hub Configuration Overview. For information on installing Governance Hub, see the Installing Content Governance section for your environment (FA or PH). The Enhanced Template Manager app must have been installed into the Governance Hub site.


Template Permissions
When adding templates to the templates library, be aware of the following:
Users can only see the templates that they have permission to see.
You can set up permissions as required: at the site level, list level, folder level, and item level.