Overview
You have created Lifecycles, associated them with Record Classes, and created the Event Occurrences. Now, you are ready to approve items that are waiting at the end of the retention period of a specific Lifecycle Phase. The Inbox is where you approve and submit action items.
Items in the Action Items Inbox are viewable if you have "Approve" permission for a specific Record Class or if you are a Record Manager.
To access this section of the application, select Inbox from the Main Menu.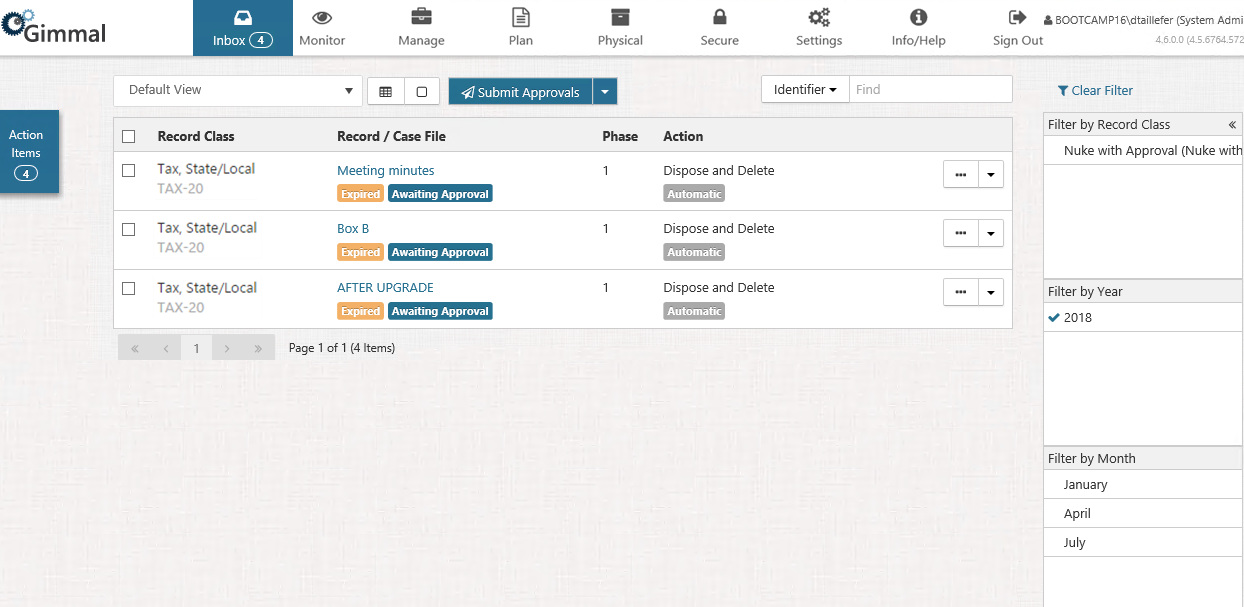 Action Items Inbox Overview
While the Action Items Inbox is primarily used for approving and submitting records for disposition, it is also used for any approval or manual completion of Action Items as directed by their Record Class's associated Lifecycle.
The Action Items Inbox provides a single location where Record Managers and Approvers will go to approve and submit Action Items. Action Items can be Automatic or Manual, dictated by the specific Lifecycle Phase that is being approved. Once submitted, Automatic Actions will direct the associated Connector to carry out the action. Once the action has been completed, the item will be moved to the next phase of its lifecycle.
For Manual Action Items, the item still must be approved by all Approver Groups. However, once completed, the item will reappear in the Inbox to confirm the manual action was completed before the item is moved to the next phase of its lifecycle. The actions that can be performed in the Inbox are Approve, Dismiss, Complete, Submit, and Retry. The following sections discuss each of these actions.